A rice cooker is a very important small appliance in Malaysia and selecting the best rice cooker just got easier with this review regarding rice cookers.
Hitachi Rice Cooker RZ-XMC18Y 1.8L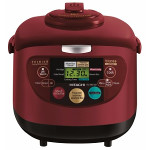 A meal wouldn't be a complete without perfectly cooked rice. So to have a satisfying and fulfilling meal, you should have something that would have you wanting for more. The Hitachi Rice Cooker RZ-XMC18Y 1.8L Black will surely take your rice fantasies to the next level. Take a bite on the bright side with the rice that is cooked to the right moisture level and taste. Experience a new twist to your common rice meals by adding this appliance to your kitchen. Fall in love again and again with it.
The secret in having rice that tastes good and has the right consistency is based on how it is cooked. An even distribution of heat is crucial in perfecting the art of cooking rice. This is why Hitachi developed an appliance that focuses on properly distributing the heat to the rice that is being cooked. This is through its strong convection property which helps in evenly allocating the right amount of heat to each and every grain of rice. Just like what the Japanese' rice, the finish product is fluffy and delicious that it will make you crave for more. It will definitely make your heart pounce in delight.
Let's think beyond the limits. Aside from it being a rice cooker, it can also perform as a steamer wherein you can cook any award winning cuisine for you and your family to enjoy. You can easily transform this great appliance into a steamer with just a push from one of the buttons on its front panel. Have a tasty steamed fish or even wonton balls in a matter of minutes. You can even create your very own steamed meals with it as your cooking partner. Be creative and explore all the possibilities there is with this appliance. You can also have a bowl of soup cooked with it after you have prepared your rice meal. That will simply spice up everything and make your eating experience unforgettable.
Heat is basically the most essential ingredient in attaining rice that is really delicious. So in preparing it, high heat is usually used but sometimes this kind of temperature causes the water to boil out of the pot. For this purpose, a Steam Cap that is present in this cooker prevents this from happening. You will surely fall deep in with this little cook of yours.
When it comes to the heating or cooking process, the black pot which is made from a thick material helps to retain the heat inside the cooker. This enables a more efficient and more thorough cooking of the rice.
Whether you will use it as a home based or a restaurant based appliance, it will surely not fail you. Your family and your customers will surely want your cooked meals more often and will ask you to cook for more. This is what this loveable appliance can promise you: a whole lifetime of nothing but delicious rice meals and mouth-watering dishes.
Panasonic Jar Rice Cooker SR-ZS185 1.8L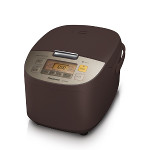 Carbohydrates occupy the bottom of the food pyramid yet they should be consumed in large amounts. They are our body's source of energy that we use every day. A perfect example of a carbohydrate rich food is rice. Rice can be found everywhere. You can definitely do a lot of fun stuff with it especially if you have a Panasonic Jar Rice Cooker SR-ZS185 1.8L. Cook delicious and flavorful rice with it for you and your family to enjoy. You will never have to look anywhere else because everything that you need when it comes to cooking the perfect rice is already at your reach.
If you're too busy to prepare your meal before eating then you can use this cooker to cook your rice ahead of the time. It has this technology that can keep your rice warm even for a long period of time. So when meal time comes, you can serve the rice and it will seem like it has just been cooked a while ago. How does this cooker do that? Here's how.
You can find millions of small diamond particles in its inner pan which increases the heat bubbles produced when it's in the process of cooking.These contribute to the equal and even distribution of heat from one grain to another. Making each grain cooked to perfection. Aside from that, water is absorbed well by the rice which makes it puffier and yummier.
A huge family needs to be catered with huge amounts of food. This is why this appliance can cook you 20 cups of rice! Let your family experience rice that tastes like those served at a restaurant with this baby in your possession. Just like any other well-engineered appliances, this one also comes with preset buttons that are programmed two different cooking settings which you can choose depending on your preference. These buttons correspond to what type of rice you are cooking. As we all know, each type of rice has its own way of cooking.
The available buttons that you can choose from includes: white rice, brown rice, sticky rice, and a quick cook option. Aside from these buttons for different rice types, there is also a 12-hour preset timer, an automatic shut-off, and a keep-warm function which can last up to 12 hours. There may be a lot of buttons but don't you worry because it has a super user-friendly LED monitor that makes sure you are properly guided on what you have pushed. Working hand-in-hand with this LED monitor are the light indicators which tells you if it's already cooked or is still on the process of cooking it.
It doesn't stop at the rice cooking part. You can also prepare and cook cakes, soups, stews, and porridges. That's how amazing this little appliance can do for you. You don't need to have those bulky machines that can do the stuff this single cooker can do. All you need to have is this one and you're all set to serve your family with nothing but the best meals for all occasions.