Should you buy your baby a Baby Walker?
Is it safe to use a baby walker ? Most parents nowadays were asking this question before buying their baby a baby walker. And some countries do not recommend the use of it, because they believe that it can cause accidents such as tripping, falling, or simple bumping on something while babies were scooting around. They think that these things take place because babies do not have the ability yet to control their walker.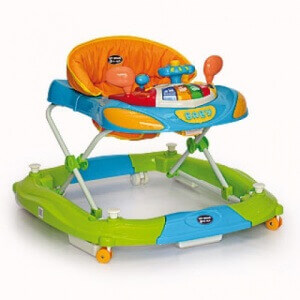 Well, they have a point, but of course, we can prevent these things to happen and we should not blame baby walkers for the accidents that might occur to our kids. Parents should always be on their baby's side whenever they put them on the walker to make sure that nothing will happen to them.
Why buy a baby walker?
Well, baby walkers are a good instrument to use to help your baby strengthen their toes, legs, and other lower muscles, so that it will become easier for them to learn how to walk. It is advisable to let your baby use the walker from six months up to the time they start to walk on their own.
Baby walkers are not only for exercising your baby's lower muscles, but it is also built to entertain them. Most of the walkers that you will see in the market have built-in colorful toys, and musical nursery rhymes that your baby will surely enjoy.
You can also use walkers as your baby's chair whenever you feed them, since most walkers nowadays have built-in locks.
What to look for in baby walkers?
There are lots of things to consider when buying baby walkers and it is important that you are aware of it. Safety is the most important factor to deal with when you visit the store.
The first thing that you should look for in a baby walker is the JPMA seal – Juvenile Product Manufacturers Associates. As you can see, there are some debates about the use of walker that it is not safe, that it will slow down the mental development of your baby, and this is the main function of this seal, to make you feel safe that the walker you're going to purchase is fully checked and tested by the experts.
You should also check and scrutinize the straps and tailoring of the walker's seat. It should be sewed tightly since your baby will be sitting on it most of the time. If you'll see even a small loosen thread, don't buy it. Your baby might slip from it after a couple of weeks of using it.
Make sure that the locks on its wheels are fully working. You need it, especially if you don't want your baby roaming around your room while you are doing some chores or taking a shower. And this feature is also built to prevent the baby walker from tipping over when it bumps on an uneven surface.
You need to check the weight capacity of the walker and even the age that it can carry. This will help you decide if it is suitable for your baby or not. If your baby's weight is still light and still below the recommended weight on its manual, do not buy it, because it might cause an accident in the near future. Your baby might tip over.
Walkers should also be adjustable. It is important that you can adjust its height depending on the height of your baby. If you value your money, you need to find something that has this feature so that you'll know that your baby can use it over a year or more than that.
Another thing to consider is the holding tray. It is important that it has a wider tray so that your baby will have more room for their toys. And you can also use it to hold your baby's plate and bottles whenever you feed them. Trays must be toxic free and the plastic should be thick too, to avoid future breakage.
Metal components should also be rust free. Make sure that it is easy to fold and once up, check the lock if it slips or not. It should stay in tacked once you set it up. This will tell you that it can hold your baby while sitting on its chair.
It should have a wide base. This will prevent your baby from getting to the door of your kitchen or other rooms that will cause danger to your baby.
My Dear Volkswagen Baby Walker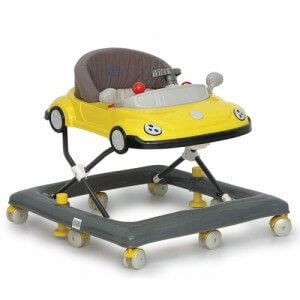 Once you have decided to buy a baby walker, please check out My Dear Volkswagen Baby Walker.
What's good with this walker is it has eight wheels to fully balance the walker even if it runs on an uneven surface. And it also has two stoppers – one from the left and one from the right.
Baby seat also has thick padding to give comfort to your baby and avoid irritation and pain when they sit on it. And it can hold up to 12 kg.
My Dear Volkswagen Baby go-cart can be adjusted in three height levels, since we know that babies grow up so fast – a very good value for your money. You can start using this at age six months and above. Well, of course, as long as it can accommodate your baby's height.
It also has a one press hold with safety lock feature. It has a strong hold, so you are rest assured that it will not slip easily even if your baby roam around the room actively.
Your baby will surely enjoy the entertainment feature of My Dear Volkswagen Baby go-cart. Its play tray has a colorful detachable car and music. It also has different shapes that your baby can play with and this shape will also play music once pressed.
Once you buy a baby walker for your baby, do not leave them unattended because it will lead to an accident in the future. Make sure that you are also in the room every time you put them on their baby walkers.