Are you looking to buy a new espresso machine? I am personally a big drinker of cafe latte, at 15 Rm each you can quickly save some money once you purchase an espresso machine.
Top of the Line Espresso Machine- De'Longhi DLH-EC155
Advanced coffee makers are widely used in fast and busy world. So why wait? Grab your morning coffee and start your day with fresh and rejuvenating shots. Prepare instant, hot and delicious coffee with excellent and professional De'Longhi Coffee Maker. Make a quick cup of freshly brewed coffee before leaving for work and kick start your energetic day!!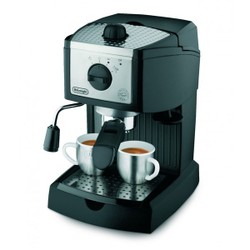 An Eco-friendly and pocket friendly coffee maker comforts you with perfectly prepared cappuccinos, espressos and lattes. This is smart, stylish and professional coffee maker which will pep up your senses with booster coffee shots.
Unique Features
De'Longhi coffee machine's unique feature of rapid espresso distinguishes it from any other ordinary coffee maker. This function helps machine to get ready within 40 seconds and its self priming feature makes this appliance always ready for use.
This is an environment friendly machine which saves energy and money. It respects the environment by putting the machine on standby mode with an indicator. It comes with an in build a professional crema filter holder which is suitable to grind coffee beans.
There is a cup shelf which helps in keeping pre-heated and ready-to-use cups to enjoy the brewed coffee with perfect temperature. This appliance also has an adjustable milk frother to prepare rich and creamy froth especially for cappuccino. Prepare endless coffee shots with different aromas, flavors and brands at home.
De'Longhi coffee espresso has a significant feature to adjust cappuccino system by mixing steam, air and milk; preparing rich, delicious and frothier coffee. There is an indicator which helps in alerting the empty water tank. It can make up to 1L coffee at a time to serve the whole family. It also has a water level indicator with removable drip tray.
This coffee maker is an expert machine which has an anti-drip feature, which allows less wastage and spilling of the freshly prepared coffee. You can switch on or switch off the machine from the main power button on the back of this maker or from the ON/OFF button present on the machine. Removable water reservoir 1L and It has a power capacity of 1450W with 220/240 – 50/60 (V) voltage usage.
De'Longhi Espresso Maker Price: See Here
Easy Maintenance
It is easy to maintain and keep this machine because of its compact size of 27.5 (W) x 31 (D) x 32.3 (H) cm and weighs 5.4kgs only. It is cleaned and wiped easily as most of its washable parts (filter, carafe, etc.) are detachable. It is easily available in the market at affordable prices. This home appliance is full value for money.
Though it works on high power, the De'Longhi's EC-155 Coffee Maker has proved its customers with its superior and excellent quality with high rating of 4 stars. It's a highly recommended product to customers by existing users. It is quite appreciated coffee maker than ordinary ones. De'longhi assures its customer with best quality, durability and service of this product. Now own your coffee maker and experience the dream of coffee house by preparing delicious, aromatic and lovely hot coffee on your own. Enjoy every sip of your coffee and relax!
The Perfect Coffee Maker- DeLonghi Coffee Maker DLH-ECAM26455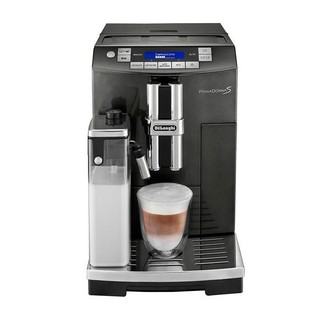 The DLH-ECAM26455 fully automatic espresso maker from De'Longhi is genuinely a unique and excellent product. It is a sturdy machine which can prepare endless espressos and cappuccinos. De'Longhi offers and sells high quality appliances which creates steam, hot, frothier and more aromatic coffee every time. De'Longhi is an Italian based company, providing best services to its customers. So, serve yourself with different flavors and brands of coffee each day.
Features
This coffee maker has some fantastic features and it looks really steal the show. This Patented Automatic Cappuccino System provides with perfect cappuccino or Italian cafe latte by placing the cup of coffee under the nozzle and press automatic button.
Its superb memory function can memorize your taste of coffee by remembering the right amount of milk and coffee as per last usage. It prepares the desired coffee with adequate amount of grounded coffee and the quantity of water.
It is super-effortless to clean this machine as cleaning can be done thoroughly with automatic cleaning and washing cycle by simply pressing the cleaning button. This coffee maker is highly practical as it has a container with the Auto Cappuccino device in which milk can be stored in refrigerator when coffee maker is not in use.
You can prepare your favorite coffee with both ground coffee and coffee beans. The coffee container has a maximum capacity to serve 14 cups of freshly brewed coffee on single usage.
This coffee machine has an inbuilt silent coffee grinder with various grinding settings. De'Longhi Coffee Maker is a flexible coffee maker which adjusts according to the requirement and prepares the desired amount of coffee, without any wastage.
There is an automatic temperature control system along with switch ON/OFF button. This machine indicates the water and coffee bean refill at regular intervals.
The key function helps you to prepare your favorite coffee quickly. It has a cup warmer where you can place your washed cups for use while preparing coffee and enjoy hot aromatic coffee shots in warm cups.
De'Longhi Espresso Maker Price: See Here
Really Nice Latte
The drip tray is easily detachable which further helps in proper cleaning and hygiene. Patented thermo blocks helps this coffee maker to constantly maintain the required temperature. It is an eco-friendly machine which has an energy saving function and LCD display enhances it looks. It is weighed at 10.5Kg with dimensions of 28 x 40.5 x 36 (W x D x H) cm. It works on high power of 1450W.
Though the bean grinder is a bit noisy, but grinding lasts for some seconds only and De'Longhi DLH-ECAM26455 espresso is one of the top rated automatic machines. It is simple and straight forward method to clean and sanitize this coffee maker. It is worth buying this machine as it is a high quality product of De'Longhi. It is quite remarkable and appreciated product and ranked with 4 stars on average. The company assures its valued customers with long durability and efficient performance of this superior coffee maker, which made it the most desired appliances among others.