Are Looking to buy the best Coffee Machine for your kitchen? Nothing is better than your Coffee Maker fixing a fresh brew for you every morning.
Here are some of my favorite coffee machines I used in Malaysia.
Highly Ranked Coffee Machine- Breville Coffee Maker BCM-600
The new Breville Coffee Maker is a smart and very efficient which brews hot and fresh coffee in a few minutes. It has an awesome automatic inbuilt function that allows you to set the time as when and at what time you want your coffee. It prepares your perfectly brewed coffee at any time of the day, with the pre-programmed timer.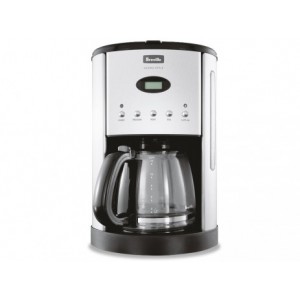 Boost your first blush of morning with freshly prepared coffee and provoke your senses with freshly brewed coffee. This Coffee Maker BCM-600 delivers ultimate and perfect coffee especially for busy home.
Specifications
Breville Coffee Machine has a multi-flow system which allows the fast and efficient preparation. Enjoy every bit of your coffee, without any splattering and spilling the coffee with non-drip valve system. This machine comes with an amazing capacity of making 12 cups of coffee at a time, saving your time. Rejuvenate yourself with freshly made, aromatic and hot coffee.
This maker acts as an alarm clock for you by waking you up every day with the delicious smell of freshly brewed coffee.
The stainless steel body gives it a stylish, bold and elegant look, ensuring rust free, scratchproof and durability of this product. It enhances your kitchen and office looks with its posh, classy and neat finish.

Breville's Coffee machine has an LCD (liquid crystal display) and red light indicating power ON/OFF. It also displays a green light when the machine is on auto mode. It has various programs installed (hour and minute buttons) which helps in setting the time. This coffee maker has a water level indicator which ensures to make the required quantity of coffee.

The glass carafe has a hinged lid and a comfortable gripped handle, which is thermostatically controlled by the hot plate underneath to keep your coffee warm until you are ready to enjoy it. It has a detachable stainless steel mesh filter which can be cleaned and maintained easily, increasing the durability of the appliance. External water gauge alerts you to refill the required amount of water.

This coffee maker is easily and readily available at affordable prices. Breville promises its customers with 1 year warranty ensuring the durability, safety and regular services. This is all in one machine which offers you with various options for better usage and customer satisfaction. This coffee making machine is very simple to use and accelerates in preparing your coffee with perfect taste.
Breville Coffee Maker Price: See Here
Breville's offers all high and superior quality home appliances with long durability and good services. It prepares your coffee rapidly with less time consuming.
This coffee maker withstands any ordinary coffee machine with its unique, latest and advance design and technology. Breville Coffee Maker has been quite highly ranked by existing users due to its efficiency and service. It prepares a perfect and hot coffee for you with no hassle.
This product is mostly preferred and remarked by customers with high rating of 4 stars on an average. Enjoy and experiment hot coffee with different flavors, brands and amounts of coffee!!
The stylish looking Kenwood Mix Coffee Maker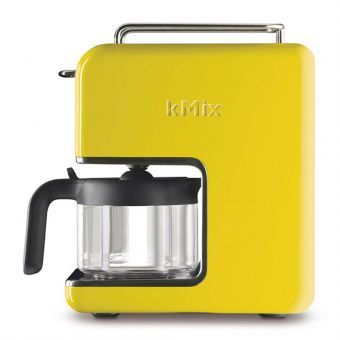 Kenwood Coffee Maker is an outstanding addition to the kitchen with its bold, compact and stunning looks. Start your day with fresh brewing coffee made by efficient coffee maker at home. No spilling and splattering while making coffee with a latest automatic coffee machine.
Kenwood's Opti Temp™ keeps the coffee hot and fresh and Thermo Gen™ heating technology ensures perfect brewing temperature. Get instant and hassle free coffee, full of flavor, by just pressing one button.
Specifications/ Features
This coffee maker expert combines good looks with the convenience and functionality make up to 6 cups of coffee shots at a time. This machine helps in preparing freshly brewed coffee with its latest technologies. Most people who are dependent on caffeine have breakfast with an old friend- The Coffee Maker.
While preparing coffee without the machine is a tedious job, on the other hand Coffee Maker eases your work with latest and advance methods. Pep up yourself with shots of coffee in your own way.
Its special heating system maintains the perfect temperature for filter brewing. This maker is perfected by maintaining the temperature of brewed coffee. The glass carafe is especially designed with Sure Grip handle to have firm and improved grip while pouring coffee with comfort.
This automatic machine has a key feature of the anti drip valve, which prevents any wastage and dripping. This valve closes automatically when you take out the coffee pot. It works on 1200W power with a Power ON / OFF indicator. The auto detection alerts you to when to de-scale the coffee machine and after 2 hours it automatically turns off its hotplate.
Regular and constant water flow is maintained through the device to keep appropriate temperature and taste. No need to buy separate paper filters as there is an inbuilt permanent swing out filter, which can be easily cleaned and sanitized.
Perfect Hot Coffee
This coffee machine brews coffee by filtering hot water through a brew basket of coffee grounds. Clean the kettle once it is cooled down, wipe with a damp cloth and then dry. Keeping it clean and hygienic is very important for its good durability. It is available at very competitive and affordable price. Coffee maker makes fresh brewing and instant coffee without any spilling. You can get more coffee shots on single use and rejuvenate yourself.
Kenwood kMix Coffee Maker Price: See Here
Its size (29H x 26W x 23.8D) makes it compact and easy to store the machine with best and fast technology. It is lightweight which helps in moving and the machine wherever required. Experience the fresh and best brewed coffee at home, just with a button. Explore the different tastes by adding different flavors of coffee in it.

Though it works high on power, but this attractive machine has been rated quite high by the existing users. Its remarkable efficiency and performance makes it the best coffee maker machine. It is advised by current users for everyone who loves making coffee with any stress. The most important thing is that it can provide with fresh coffee at anytime in the day.