It's not only the coffee machine that makes the perfect coffee, you also need a very good coffee grinder to finely grind your coffee for espresso or just the normal drip coffee.
The Best Coffee Grinder- DeLonghi Coffee Grinder KG49
The DeLonghi Coffee Grinder KG49 provides excellent and consistent ground coffee with its outstanding and high performance. It delivers the best tasting ground coffee with the perfect blend of coffee and aroma.
Already ground coffee becomes stale with fewer aromas left in it, so freshly grind your coffee beans as required to keep the flavor intact. So waiting for what?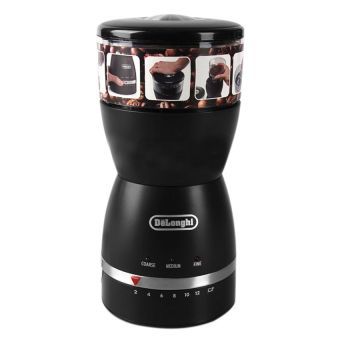 Go buy yourself a Delonghi Coffee Grinder to get the best of ground coffee at home! Delonghi offers its valued customers with high and superior quality products. The company provides with innovative products with the latest and advanced technologies. The quality of the coffee totally depends on the efficiency in grinding.
Key Features
The Delonghi Coffee Grinder is a high performer grinder which retains the original aroma while grinding the coffee beans. It rapidly grinds the finest coffee for two to twelve cups of coffee at a time. It has many different options for coarser or finest coffee, as required.
Best Coffee Grinders in Malaysia

The safety lid on the coffee container avoids any spilling, mess and accidents, protecting the coffee from catching moisture. Its stylish and classy design withstands any ordinary coffee grinder. Grind and extract the desired level of flavor and fineness with multiple options. A good grinder is the key to better and aromatic coffee.
The ON/OFF button with blue LED makes this machine easy to use. This appliance is very less noisy as compared to other grinders and consumes less power of 170W, making it an environmentally friendly product.
Delonghi Coffee Grinder Price: See Here
Perfect Ground Coffee
This product ensures best, fast and finely ground coffee with less time wastage. Due to its sleek and elegant design, this grinder also enhances the look of your kitchen. You have proper control on grinding the beans as this appliance has various fine controls.
Its appearance and easy to operate function attracts most of the customers. This grinder doesn't acquire much counter space, thanks to its compact and sleek design.
The Delonghi Grinder is especially designed for domestic use, to prepare freshly ground coffee as and when required. Simply press a button and start grinding without any hassle. Grind the beans just before brewing and get the best of the flavor, taste and aroma.
This Delonghi grinder machine is perfectly capable of expressing excellent espresso grinds. Either clean the lids and the ground coffee container with warm and soapy water or wash them automatically in your dishwasher by placing it in the first basket. Clean the bean chopper from inside with damp cloth and dry it.
Though this coffee grinder is little messy, but it is worth buying it as to get freshly ground coffee and further enjoying your coffee with perfect taste and aroma. This is quite highly recommended product by current and existing users and is well remarked by them.
It is rated with 4.1 stars on an average, making it the best selling appliance. Delonghi ensures its customers the durability, trust and regular service with one year warranty. It is available at affordable price which makes it full value for money product for high performance and efficient grinding.
Breville Coffee Grinder BCG800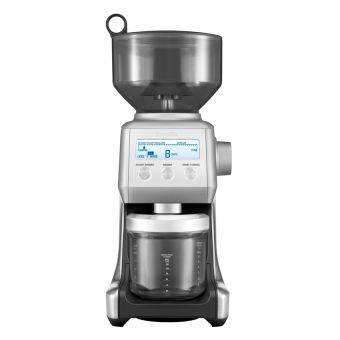 The organization that's also known for $30 sandwich presses has made the decision to step up a notch within the domestic coffee market using the BCG800 Wise Grinder, that is smartly designed, well designed and superbly built.
In addition to permitting you to definitely control how fine your grind could it be offers portion control: the equivalent coffee in the same degree of coarseness each time.
Once you have your configurations right you will find no day-old grounds relaxing in the device – you simply grind as numerous beans since you need. For individuals people who don't have the cash to spend $1500 for any domestic espresso maker and rather depend on the $60 stove espresso for the caffeine hit in your own home, this really is innovation.
Consistent grind and portion control with the majority of the mess contained inside the bounds from the machine mean an easy 125g of roasting beans in the local micro roaster can cover all needs for that week.
The little visual and physical footprint from the BCG800 implies that it sits easily inside a domestic kitchen. Simple use of magnets coupled with quality implies that you're in a position to easily slip components out and in to clean.
You will find several rants to choose the raves: the amount presets are acceptable for standard group mind bowls although not so helpful for stove bowls. Getting a volume setting with linear batches could be helpful. It is also not too simple to precisely put stove bowls directly underneath the grinder's outlet – maybe it might be easy to create stove bowl holders such as the group mind bowl holders.
It consistently provides the right amount from the exact grind to match my coffee maker. It's reasonably quiet and simple to wash.
They are minor niggles, though. A geek could be satisfied this machine can offer the correct quantity from the right type of grind in the press of the mouse, however with the BCG800, Breville went one step beyond.
I've only used 2 grinders. The lower pricd breville BarAroma and this one. The BCG800 is a better quality unit. It's quieter, allows hands free dosage, grinds directly into the basket, has lots of adjustments and grinds fine enough for my dual boiler. I've only had for 2 weeks but my coffee has improved and it's all because of a decent grinder. Got a 4 yr warranty with mine so hopefully I'm still happy in 4years time! What else do I need to say? She holds more beans too!
Coffee Bean Grinder 600N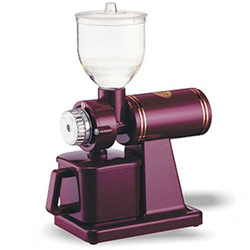 Love to grind coffee on your own? Waiting for what? Go and buy the Coffee Bean Grinder 600N right now and experiment the ways of grinding different coffees. This grinder is a commercial and professional coffee grinder that grinds perfect coffee for you.
This powerful grinder provides with the finest coffee which you can never imagine! This amazing grinder is used by restaurants and espresso bars and cafes. This coffee grinding machine provides with many different options for the desired fineness of the coffee.
Key Features
600N grinder is a strong, sturdy and powerful grinder which allows you to grind the coffee beans with different flavors and aromas. It gives you various options to grind the beans to get the required type of ground coffee. This machine ensures the customer with consistent grinding and durability.
This efficient grinder is made of high quality and impact resistant plastic assures its long life and easy to clean feature adds value to this product. Gaggia has gained many valued customers by its excellent performance and long durability.
This company's coffee grinding machine has an inbuilt 200 Watts powerful motor that enhances its efficiency with smooth running and producing finer coffee. 600N coffee grinder is less noisy than any other ordinary grinding machine, hence making it a sound friendly and most appreciated appliance. This grinder has stylish, smart and sleek looks which really attract the customers. It's trendy, latest and great looks enhance the beauty of your kitchen too.
This machine is made with high and superior quality parts than any other burr grinder that lasts for years. There is a standard ON/OFF switch on right side at bottom of this outstanding grinding machine. Get freshly ground coffee with best results each time.
Great Reviews – Great Flavor
600N coffee grinder works best for the people who are coffee-lovers and likes to grind coffee beans as and when required for having freshly brewed and aromatic coffee. Master the art of grinding the finest coffee with an expert coffee grinder from this grinder machine which can grind up to 8 ounces of coffee at a time. Grinding coffee beans for coffee is more economical, fresh and flavored than buying ready ground coffee.
600N Price: See Here
This grinder involves perfect grind of all brands, flavors and aromas of coffee. This machine works on latest and advanced methods which makes it a timeless product. It is specially designed to produce the finest and the best coffee for its users with dimensions of 33cm x 26cm x 16cm. It is light weight machine, weighing 3.6Kg only, which makes more convenient for the customers to keep and handle it.
The 600N has proved its customers with its efficiency and reliability over the years. The coffee grinder of this company is highly remarked by existing customers for its unique and outstanding performance. It has been rated with 4.5 stars from the current and valued customers. It is readily available at quite affordable price than other grinders. This brand promises its customers long durability and regular service of this product with 3 month warranty.