Are you looking for the Best Home Theater System in Malaysia ? This review will outline two great systems that you can buy Online.
SONY BDV-E6100 5.1 3D Home Theater System
The Blu-ray disc has been so far the best development ever done when it comes to video and audio recording quality. It stands far above from its predecessors. With the uprising power of the Blu-ray disc that is almost replacing the DVDs and VCDs that we all know, Sony came up with a home entertainment system that plays Blu-ray discs. It enhances them more creating a cinematic feel at the comfort of your own house.
The Sony 5.1 Bluray Home Theater System BDV-E6100 can be the future of all entertainment systems in the world.
BD/DVD/CD/USB/DLNA
1000W output
Full HD 1080p
Sony Entertainment Network technology
1 USB port
Built-in WiFi
One-touch listening

What makes a movie more appealing to the audience? Of course it's the audio and the visuals. Pictures wouldn't have the same emotions if there are no sounds of it. This is why Sony created a system that improves the audio presentation of the sounds from the CD that you are playing. It makes them more real to our eyes and ears. This is possible through its two Tallboy speakers, a sub woofer, and Dolby audio features.
That is a lot of great sound enhancers for you to experience. What's good about these equipments is that they will make you jump from your seat every time an intense scene is happening. It feels like you're really inside the movie. A 3D film and experience is a to die for a moment for those movie enthusiasts. In addition to a great sound effect is produced by this system, it can make you experience a 3-dimensional feel of the movie you are watching. Watch as the characters jump off the screen like if you were a part of the movie. You can see how the each detail of the movie is being enhanced and you will surely see the difference as you watch the whole movie.
Define high definition with this entertainment system in possession. It plays your movie with very clear visuals and highlights even the smallest detail so that all in all it can form a high quality and high definition movie for you and your family to enjoy. The colors are really enhanced in a way that it gives the utmost clarity a Blu-ray disc has to offer. It is five times sharper compared to the normal DVDs we are familiar with. Don't feel down if you still have DVDs in your possession because you can still use them with this home system.
It can play them and enhance them into HD. Is that great or what? Relive the greatest moments in your favorite film in DVD again with this system and you'll be shocked that it is will be better than ever. Cables are a thing of the past. No cables are needed when you're about to use this one. All you need is to connect the USB Wireless LAN adaptor to this device and you can explore thousands of possibilities. It doesn't stop there. It's definitely a must have an electronic system for the whole family. Experience movies in a whole new level.
SONY BDV-E4100 5.1 Home Audio
An older version with pretty much the same functionalities than the BDV-E6100, you can get the the Sony 5.1 Bluray Home Theater System BDV-E4100 here.
Denon & Boston 5.1 Home theater system (AVR-X2000+Soundware XS5.1)
A busy week counts for a stress free weekend with your friends or family. What's the best way to spend the whole weekend without you are costing any cent? Have a movie night at your house! That's a perfect way to lighten up the mood and remove the stress from work or school. Set up and plan a day or a night with your friends or family.
A movie marathon is best enjoyed if you have the Denon & Boston 5.1 Home theater system (AVR-x2000+Soundware XS5.1) right in your living room. It's rated 4 and a half star by those people who already have one at home. What makes a movie's sound effect more realistic? It's the sound system of course. That is why you need both the Denon and Boston sound system to make things fun and pleasing to the ears. Two is better than one right? The Boston Acoustics Sound ware XS 5.1 Home Theater System provides extraordinary power compared to the common speakers we usually have. It may be small but don't let underestimate it because of its size.
5.1ch Home Theater System
Dolby TrueHD
Boston Acoustics Soundware XS5.1
4 x HDMI Terminal
1 x USB Terminal
Although it is small, it packs a powerful punch when it comes to throwing smooth resonating sounds. It features a soft dome tweeter that measure ½" and a mid-bas driver of 2-1/2" in size. The secret of its great sound resonator lies in its flexibility which is solely because of its polyhedron shaped body that you can put anywhere at any position. Aside from that, its 8-inch woofer that is made up from graphite with injected polymer makes use of additional bass even there is low amplifier power.
It also has a powerful subwoofer (around 100 watts) which has this Bass Track circuitry that is responsible for its outstanding sound output which is free from distortions. You don't want to have any noise whenever you watch your favorite movie right? The Denon AVR-x2000 5.1 Channel 3D Pass Through Home Theater Receiver on the other hand is an amplifier which is a great partner for your Boston speaker. What it does is that it boosts the audio and also the video quality of the show or movie you are watching. All you have to do is to plug in your speaker into it and experience nothing but the best and most realistic feel to your movie watching pleasure. How does it turn the sounds into a superb and unmatched quality? It's easy.
Using the Compressed Audio Restorer in its system, it boosts and lets the utmost quality come out of your music or the movie's audio. It also has a GUI which allows you to change system settings with ease using the menu that will flash on the screen of your TV. This amplifier uses discrete circuitry compared to the others who uses integrated circuitry. This means that it generates more fantastic sounds compared to other amplifiers in the market. With both of these in your living room, it will surely make you and your friends or family feel relaxed and amazed at how these two can make an already good movie into a better and more lifelike. You can have your very own 3D entertainment system with these two combined. What are you waiting for? Get ready for a life changing experience.
Boston Acoustics SoundWare XS 5.1 Home Theater Speaker System
Onkyo 3D BLU-RAY Home Theater System OKY-HTS3500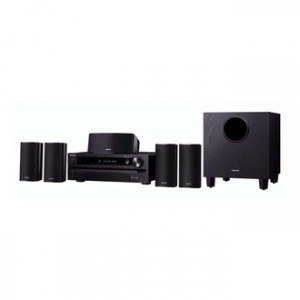 For small- to medium-sized rooms, you cannot go beyond the well-balanced and economical HT-S3500 home entertainment package. Recently outfitted with Onkyo's WRAT (Wide Selection Amplifier Technology), the AVR and 6-speaker system will surprise and delight with audio performance you realized from the more costly system. The package is simple to setup away from the box, because of the intuitive HDMI®-overlaid On-Display Screen and wall-mountable loudspeakers.
Four High-definition multimedia interface inputs provide connectivity for BD gamers and gaming systems, and there's a sound Return Funnel to transmit TV audio with the receiver. Plug your iPod®/iPhone® in to the front-panel USB and revel in obvious, effective seem by having an built-in optimizer improving the standard of compressed digital music.
The AVR decodes Dolby® TrueHD and DTS-HD Master Audio™, and it is ready for three dimensional games and films. Ideal for changing a maturing system, or the first foray into the field of home entertainment, the package is rounded by helping cover their a subwoofer to enhance bottom-finish seem. I have now moved into my home and also have this technique setup and attached to the wall.
A couple of things: -Affixing these loudspeakers using mounts is really a discomfort. They merely possess a keyhole mounting option, and also the mount set I purchased which stated it had been suitable for keyhole loudspeakers didn't work. I needed to buy extra nuts and washing machines to have it to connect. I made the decision to simply mount the trunk loudspeakers using the mounts, and also have the front loudspeakers hanging on wall screws. Mounting straight to the wall with screws really works pretty much though.
I attached some adhesive felt pads to the rear of the loudspeakers to get rid of any possible vibration from the wall. -The ozone smell I pointed out initially is mainly gone. -Low volume listening continues to be a little of the discomfort. I've found myself boosting the middle funnel to help make the voices stick out more late during the night once the wife is asleep. The seem is excellent at greater volumes, though. -Edit- I fixed the reduced hum, it had been a ground loop triggered by my cable line. Completely unrelated towards the loudspeakers. I am still pleased with the acquisition. The cost cost less now than I compensated, I believe it's an excellent deal.
Original review: This really is Onkyo's new basic level 5.1 system for March 2012. I had been just a little wary about purchasing this technique due to the issues using the previous generation HT-S3400, but haven't had any problems to date. To begin with, this really is my first multichannel audio system, so I don't have lots of history to check it to. Pros: -Initial setup was super easy. Just unpack the receiver and loudspeakers, and hook all of them up. The speaker wire it arrives with is color coded for every speaker, and it is shorter for that front loudspeakers and longer for that rear. I've got a PS3 and HD Cable.